Dining & Bar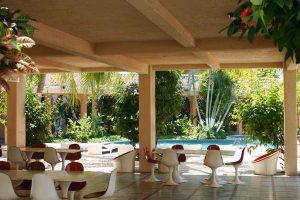 Playa Santiago Hotel has a restaurant in the beach with a marvelous view of the bay of Santiago. It offers International cuisine that includes several seafood dishes, meats, pastas, cheeseburgers, burritos and much more to delight you during your stay.
With maximum capacity for 120 persons, our restaurant in Manzanillo, Mexico offers its services daily from 8:30 to 16:30 hours.
Also, next to our restaurant you will find a bar with splendid views of the ocean. Its specialty is the refreshing "tequila puesto al sol". Our bar services are available every day from 9:00 to 22:30 hours.